2020 Europe Rediscovered by Luxury Private Jet
NETHERLANDS • ITALY • FRANCE • SWITZERLAND • GERMANY • SPAIN
May 9 – 24, 2020 | Maximum 15 Travelers
• Suite accommodations at no extra charge for all tour members
• A-la-Carte at restaurants and Room Service
• Special entertainment and gala evenings
• Window seating for all excursions
• Leisure time in each destination to enjoy the facilities
• All gratuities to guides, drivers, hotel staff and Lakani Tour Managers
• "Luggage-One-Touch" from start to finish
• Fly directly between destinations and avoid typical airport crowds at private terminals
Your VIP Private Jet, which normally seats more than 40, has been custom-fitted for only 15 travelers with luxurious leather club seats and posh interiors.  Your cabin crew will graciously anticipate all of your in-flight needs, while serving first class cuisine with fine wines and champagnes.  Experience arrivals like royalty, often at private terminals, where you hardly realize the usual customs and immigration formalities have taken place.
Highlights & Inclusions
Netherlands – Glide through the splendid tulip gardens of Keukenhof.
Italy –  Discover Raphael's birthplace and explore the world's smallest and oldest republic, San Marino.
France – Indulge in Lyon's famous gastronomy scene, dining in Michelin starred restaurants and joining a private cooking workshop.
Switzerland – Explore the winding streets and 14th century buildings at the tripoint of the Swiss, German, and French borders.
Germany – Visit the Elbphilharmonie Concert Hall, one of the largest and most acoustically advanced concert halls in the world.
Spain – Gain insight into prominent artists like Salvador Dali, Gaudi and Miro as you tour a few of their masterpieces.
PRICING
$9,550
Single Room Supplement
May 9 - 11, 2020 •

Amsterdam, Netherlands -- Waldorf Astoria

Arrive at Schiphol International Airport and enjoy VIP Fastrack service and be transferred to your river view accommodations in the heart of Amsterdam. Meet fellow travelers and your Lakani Tour Managers at an evening cocktail party.

Explore Amsterdam on a walking tour of the charming old town, the Old Jewish Quarter, and enjoy the fast-lane entrance to the Anne Frank House. Take an afternoon drive to Lisse for a tour through the splendid Tulip Gardens of Keukenhof.

May 12 - 14 •

Rimini, Italy -- Grand Hotel Rimini

Board the Lakani Private Jet for your flight to Italy and the Adriatic city of Rimini. The stunning celebrated beach resort is an ideal base for exploring and relaxing. It is also the birthplace of filmmaker, Federico Fellini. Be a guest in his niece's home and learn about his life in Rimini. Tour the world's smallest and oldest republic, San Marino. Walk through Borgo Maggiore and take the cable car up Mount Titano to San Marino's historical center while taking in panoramic views of the city and the Adriatic. Step into a vintage Ferrari for a chauffeur-driven ride through one of the most scenic routes in Italy to the walled city of Urbino, Raphael's birthplace, and discover the life of the Renaissance painter. Follow in the footsteps of Dante, Italy's famous poet, on an excursion to Ravenna.
May 15 - 17 •

Lyon, France -- Villa Florentine

Travel by Lakani Private Jet to Lyon and transfer to your luxury boutique hotel overlooking the old city. Founded by the Romans in the 1st century B.C., the Historic Site of Lyon is a UNESCO World Heritage Site. Walk through Old Lyon and the Croix Rousse quarter where you'll discover ancient narrow passageways linking buildings and streets. Tour the pilgrimage site of Basilica of Notre Dame de Fourviere. Discover Les Halles de Lyon Paul Bocuse market and participate in

a private cooking workshop with a Michelin-starred Chef, followed by lunch. Embark on a private catamaran cruise on the Saone River to the village of Collonges-au-Mont-d'Or for dinner. Indulge in the gastronomy for which Lyon is famous.
May 18 - 23 •

Basel, Switzerland / Hamburg, Germany -- Fairmont Hotel Vier Jahreszeiten

Board the Lakani Jet for an exciting stop in the lovely Swiss/German/French border city of Basel, straddling the Rhine River. Admire the highlights of the city from your seat in a vintage streetcar, then walk through the old town and see its historic 14th-century buildings. Visit the medieval Basel Minster; its pinkish-red sandstone walls, twin towers and tiled roof which dominates the city skyline. Enjoy a delightful riverside lunch before re-boarding the jet bound for Hamburg, arriving late afternoon.

Explore the city, including the red-brick facades of the warehouses of Speicherstadt, a UNESCO World Heritage Site, and its impressive International Maritime Museum. Visit the astonishing Elbphilharmonie, one of the largest and most acoustically advanced concert halls in the world. Take a private cruise to see the harbor and the waterside districts; view the Elbphilharmonie from the water. Tour the Chilehaus, an excellent example of Brick Expressionism architecture, the City Hall and St. Michael's Church.

May 21-23 •

Barcelona, Spain -- Hotel Majestic

Your concluding flight on the Lakani Jet takes you to the vibrant Mediterranean city of Barcelona and your ideally located luxury hotel on the impressive Paseo de Gracia. Tour the unforgettable Catalonian capital whose tradition of creative art and craftsmanship are evident throughout the city. Gain insight into prominent artists like Gaudi and Miro as you see their masterpieces, including La Sagrada Familia, Casa Mila, Casa Batllo, and the Joan Miro Foundation on Montjuic hill. Take the high-speed train to Figueres, the birthplace of Salvador Dali, to see his self-designed Theater Museum and learn about his life. Enjoy lunch before returning to Barcelona by coach. Gather with your travel companions and Tour Managers for farewell cocktails and dinner.
May 24 •

Homeward Bound

Bid adieu to Europe and your newfound friends as you transfer to the airport for your flight home or to your next destination.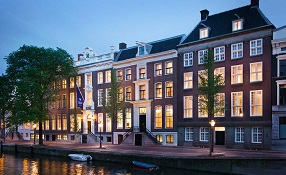 Waldorf Astoria •

Amsterdam, Netherlands

An exceptional retreat overlooking the storied and remarkable canals of Amsterdam.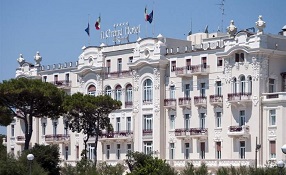 Grand Hotel Rimini •

Rimini, Italy

French and Venetian pieces of eighteenth-century furniture, magnificent Murano chandeliers, and precious marbles cover the inner rooms of this historic hotel.
Villa Florentine •

Lyon, France

 A former convent converted into a five star luxury hotel, ideally located in the historic district of the 5

th

arrondissement of Lyon.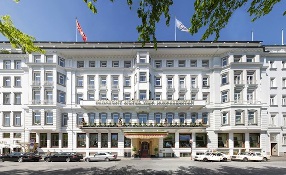 Hotel Vier Jahreszeiten •

Hamburg, Germany

Prominently located on the western side of the Inner Alster Lake shore, the prime retail and commercial district of Germany.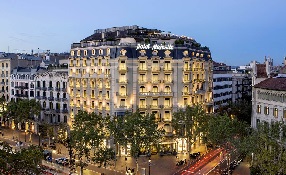 Hotel Majestic •

Barcelona, Spain

An icon of exclusiveness standing as a symbol of excellence near Gaudi's famous archictecture in Passeig de Gràcia.