2020 Colombia by Charter Aircraft
SMALL GROUP Tour – August – 15 – 23, 2020
Colombia | Starts: Bogota   Ends: Cartagena

Limited to 14 Travelers
Join your expert Lakani Tour Manager and an exclusive group of like-minded travelers on this spectacular tour of Colombia.
Delve into the history, art, lifestyle, and biodiversity of Colombia, inhabited since 12,000 BCE and now the 2nd most populated and the 4th largest country in South America. Trace the colonial history, discover the modern art of Fernando Botero and the incredible graffiti art of Medellin, and learn about the biodiversity that Colombia enjoys as you travel by private charter
plane from the capital of Bogota to the coffee plantations on the slopes of the Andes, to the Caribbean port city of Cartagena. Why does Colombia produce some of the best coffee in the world, and what is its affect on the economy and life of its people? You'll come to understand this and much more on this fascinating adventure in Colombia.
Highlights & Inclusions
Visit the fabulous Gold Museum, Botero's gallery of well-rounded figures, and Zipaquira's underground Salt Cathedral.
Experience Colombia's most famous export Coffee with private tastings and see how it is all processed
Come into contact with the local Graffiti art scene with a local artist in Medellin.
 Enjoy the colonial extravaganza that is Cartagena located on the Caribbean Coast.
PRICING
Prices Starting From
$4,290
Single Room Supplement
August 15 - 17, 2020 •

Bogota -- Four Seasons Casa Medina

Arrive Bogota where you will be met by your VIP greeter and transferred to your luxury hotel just steps from the "Zona Gourmet." Gather together for a welcome cocktail and dinner party to meet fellow travelers and your Lakani Tour Manager. Explore Bogota's historic center, La Candelaria, where you will be led on a tour of the Gold Museum by a professional curator, admire the art in the Botero Gallery, and visit the Presidential Palace. Enjoy lunch on the beautiful Monserrate hilltop. Sample exotic fruits at the Paloquemao Market. Venture northeast of the city to Zipaquira to see the fascinating underground Salt Cathedral, carved into the halite tunnels of a salt mine.
August 18 - 19, 2020 •

Pereira -- Casa San Carlos Lodge

Board your charter flight bound for Pereira, in the coffee-growing region which is a UNESCO World Heritage Site. Learn about the coffee process and then experience a tasting at Hacienda Venecia. Take a full-day tour to Filandia and Salento, traditional coffee towns near the scenic Cocora Valley. Drive into the valley and delight in a picnic lunch.
August 20-23 •

Medellin & Cartagena -- Hotel Sofitel Legend Santa Clara

Fly aboard a charter plane to Medellin. Experience an authentic tour through the Street Art area, accompanied by a graffiti artist who will relate the stories and history of the neighborhood. After lunch continue to Cartagena and our beautiful hotel.

Ascend Mount Popa to visit the hilltop convent and cloister. The historic complex dates to 1607 and from there you can enjoy magnificent views of the city below. Explore the 16th-century Fortress of San Felipe. In the afternoon relax and enjoy rum and chocolate tasting before touring this historic city by horse and carriage.

Delight in a full-day private island-hopping experience. Board a private boat decked out with snorkeling equipment, snacks, drinks and lunch. It is a Natural National Park of Colombia, founded to protect one of the most important coral reefs of the Colombian Caribbean coast. Return to the mainland and reminisce with fellow travelers at a festive farewell dinner party. Transfer to the airport for your onward or homeward bound flight.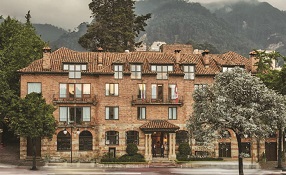 Four Seasons Casa Medina •

Bogota

Recognized as one of the finest Bogota hotels, this stately and urbane jewel is perfectly nestled in the Zona G (for Gastronomy.)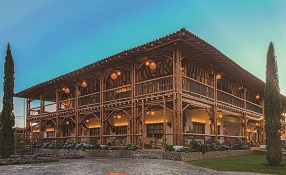 Casa San Carlos Lodge •

Pereira

Declared World Heritage by UNESCO, Casa San Carlos is nestled in the Colombian Coffee Cultural Landscape.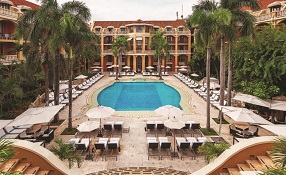 Hotel Sofitel Legend Santa Clara •

Cartagena

Located in colonial Cartagena, steps from House of Gabriel Garcia Marquez and Plaza de San Diego.