2020 African Explorations by Luxury Private Jet
UNITED ARAB EMIRATES/ABU DHABI • ETHIOPIA • RWANDA • BOTSWANA • SOUTH AFRICA/PHINDA
June 23 – July 7, 2020 | Maximum 15 Travelers
• Suite accommodations and Luxury Tented Camps at no extra charge for all tour members
• A-la-Carte at restaurants and Room Service
• Special entertainment and gala evenings
• Window seating for all excursions and safaris
• Leisure time in each destination to enjoy the facilities
• All gratuities to guides, drivers, hotel staff and Lakani Tour Managers
• "Luggage-One-Touch" from start to finish
• Fly directly between destinations and avoid typical airport crowds at private terminals
Your VIP Private Jet, which normally seats more than 40, has been custom-fitted for only 15 travelers with luxurious leather club seats and posh interiors.  Your cabin crew will graciously anticipate all of your in-flight needs, while serving first class cuisine with fine wines and champagnes.  Experience arrivals like royalty, often at private terminals, where you hardly realize the usual customs and immigration formalities have taken place.
Highlights & Inclusions
UAE – Ride in an ancient water taxi to the gold and silver souks of Dubai.
Ethiopia –  Visit the fascinating tribal villages of Ethiopia.
Rwanda – Trek up the slopes of the mighty Virungas in search of Golden Monkeys and Mountain Gorillas.
Botswana – Discover the giant baobab trees and 1,500 year old rock paintings of Chobe National Park.
South Africa – Seek out the Big Five and the elusive Black Rhino on wildlife drives and bush walks.
PRICING
$8,500
Single Room Supplement
June 23 - 25, 2020 •

Abu Dhabi, UAE -- Emirates Palace Abu Dhabi

Arrive in Abu Dhabi, the capital of the United Arab Emirates, located on an island in the Arabian Gulf. Meet your travel companions and Lakani Tour Managers at a welcome cocktail reception and dinner party.

Visit the Abu Dhabi Falcon Hospital for a unique insight into the fascinating world of falconry, an integral part of the Emirate's heritage. Tour the Falcon Museum and the hospital for a chance to see live medical work in progress, free-flying falcons, and to let a large and majestic falcon sit on your arm. Drive along the famous corniche to Sheikh Zayed Grand Mosque, the third largest in the world, with over 80 domes. Tour the magnificent Louvre Abu Dhabi with an art expert.

Travel by seaplane on an exciting full-day excursion to Dubai. Ascend to the 154th floor of the Burj Khalifa – the tallest building in the world. Delight in a memorable lunch at the iconic Burj Al Arab Hotel's Al Muntaha Restaurant with stunning views of the city and waterfront. Ride across the Dubai Creek in an abra and walk through the Spice and Gold souk before returning to Abu Dhabi.

June 26 - 27 •

Addis Ababa, Ethiopia -- Sheraton Addis Ababa

Board the Lakani Private Jet this morning and fly to the African continent, arriving in Ethiopia's capital.

Tour historic Addis Ababa; see the Baroque-styled Trinity Cathedral; step inside the Ethnological Museum in Emperor Haile Selassie's former palace; and admire the University gardens and fountains.

Become immersed in tribal culture on a full day excursion by local charter to the Omo Valley in the southern part of the country. Upon arrival at Jinka's airport, drive to a Mursi tribal village and interact with its residents. Learn why Mursi women adorne their lower lips with clay plates, and why men paint their bodies and faces white. Observe a traditional ceremony before departing for Jinka and your return flight to Addis Ababa.

June 28 - 30 •

Volcanos National Park, Rwanda -- Sabyinyo Silverback Lodge

Travel southwest aboard the Lakani Private Jet to Rwanda. Transfer by local charter to the Volcanoes National Park. Spend the next three nights in a beautifully appointed lodge situated in the foothills of the Virungas, on whose slopes twenty families of Mountain Gorillas live here. Join a guide for a trek to where some of the gorilla families are living. Take photos and be at one with nature as you observe these magnificent creatures. Participate in other activities, such as a guided village walk to gain insight into rural Rwandan life, see the graves of Dian Fossey and her beloved gorillas, and trek to see the Golden Monkeys.
July 1 - 3 •

Chobe National Park, Botswana -- Belmond Savute Elephant Lodge

Fly aboard the Lakani Private Jet to Maun, Botswana and take a local charter to Chobe National Park where you will immerse yourself in safari activities. Wake up to hot coffee and tea delivered to your tent and begin the day with a wildlife drive to view Africa's largest elephant population as well as other mighty animals. Return to camp for a scrumptious breakfast. Perhaps take a swim or relax on the deck with a book. Later in the day, leave on another drive to a different area of the park to look at a collection of 1500-year-old paintings by the San Bushmen and a grove of 13 giant baobab trees. You may search for a pride of lions or other predators. Return to a fabulous dinner and an evening of stargazing and socializing around the firepit. Be sure to visit the viewing hide to see wildlife at eye level.
July 4 - 6 •

Phinda Private Game Reserve, South Africa -- andBeyond Phinda Forest Lodge

Take a private charter flight back to Maun where your Lakani Private Jet awaits to carry you to Johannesburg. You will connect with a local charter flight to KwaZulu located on the east coast of South Africa, and transfer to your accommodations at the Phinda Private Game Reserve. The reserve is known for its abundant wildlife and diverse habitats. Explore the seven distinct ecosystems of the Phinda, home to the "Big Five" and other endemic species of KwaZulu-Natal as you venture out on two daily game drives. Get up close to nature on a guided bush walk. Participate in an extraordinary conservation experience known as "rhino notching." Track rhino and witness the darting of the endangered giants before you assist the veterinarian team in notching the sleeping rhino's ear for research and security monitoring. Learn how this program helps to keep the animals safe and cherish the unforgettable touch of a rhino. Visit a local community to learn about their lifestyle, traditions, and the difficulties they face. Cool off after your safari activities with a dip in the pool, or perhaps indulge in a massage. Join with your fellow travelers for sundowners and share your memorable moments from this unforgettable private jet journey.
July 7 •

Johannesburg, South Africa and Homeward Bound -- Intercontinental Hotel

Return to Johannesburg where you'll be met and escorted to the Inter-Continental Hotel for check-in. You'll have the rest of the day at leisure before your evening departure flight transports you home or to your next destination.
Emirates Palace Hotel •

Abu Dhabi

Begin your private jet journey in an elegant Khaleej Suite overlooking the Arabian Sea. Your well-appointed suite comes with all the state-of-the-art luxuries, including an in-room iPad, as well as your own jacuzzi. Step out onto your balcony and you'll have sweeping views of the sea. You will be spoiled with many dining outlets to suit all palates. Indulge in a visit to the magnificent award-winning Spa for a revitalizing treatment.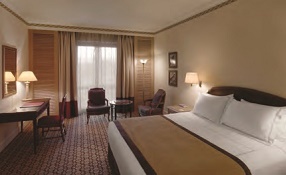 Sheraton Addis Ababa •

Addis Ababa

In the heart of the Ethiopian capital, your lavish Junior Suite awaits you with two balconies and outdoor terraces, and even a stationary exercise bike. Located on the top floor of the hotel with panoramic views of the city, the suite also features luxury amenities and creature comforts. Experience glittering pools with enchanting underwater music and a variety of soothing massages at the hotel's Spa. Your appetite will surely be satisfied with a choice of restaurants featuring Italian, Indian, and Middle Eastern dishes.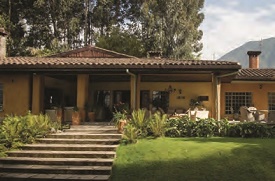 Sabyinyo Silverback Lodge •

Volcanoes National Park

Luxuriate in your spacious cottage in the foothills of the Virungas, home to the magnificent Mountain Gorillas. Your cottage is outfitted with luxury amenities, including Cinnabar Green toiletries, a sitting room with a fireplace and a sheltered veranda with views of the scenic mountains and countryside. The lodge is ideally located close to the headquarters of the Volcanoes National Park from where you will trek on foot to see the gorillas.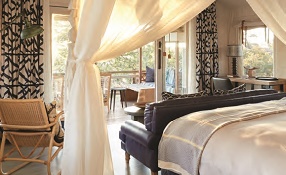 Belmond Savute Elephant Lodge •

Chobe Reserve

Your luxurious raised tented room awaits you on the banks of the Savute Channel. After your morning game drive, stretch out on your comfortable four poster bed, or unwind on your private deck with a book in hand and one eye on the vista before you to spot elephants as they make their way to the waterhole in front of the lodge. Enjoy signature African dishes paired with fine wines in the outdoor dining room with views of the savannah and its abundant wildlife.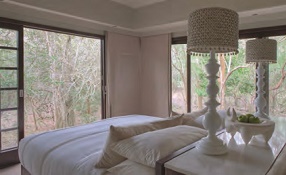 andBeyond Phinda Forest Lodge •

Phinda Private Game Reserve

Observe the ever-changing view of wildlife from the comfort of your beautifully appointed glass Suite amidst the unique sand forest. Raised on stilts, with floor to ceiling glass walls, you will feel virtually part of the surrounding canopy, where dwarf antelope play. Awaken to the birds and forest sounds and a sense of peace and calm sets the tone for the day. Indulge in delectable lunches al fresco style while admiring an assortment of wildlife frolic and graze in the distance. In the evening, relax at the traditional African boma, dine under a canvas of stars, and reminisce about your African Private Jet experiences with your fellow travelers.